Camp Fjället liegt ca. 8 Kilometer ausserhalb der Kleinstadt Tidaholm in Västergötland.
Zwischen den beiden grossen Seen Vättern und Vänern.
Camp Fjället ligger ca 8 km utanför Tidaholm mellan Vänern och Vättern i Västergötland.
Camp Fjället is located approximately 8 kilometers outside of Tidaholm town.
Tidaholm is situated in Västergötland between the two big lakes, Lake Vänern and Lake Vättern.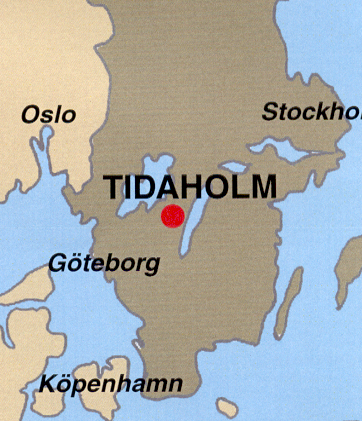 Abstandstabelle/Avståndstabell
Tidaholm – Malmö 360Km
Tidaholm – Helsingborg 310Km
Tidaholm – Göteborg 160Km
Tidaholm – Jönköping 85Km
Tidaholm – Karlstad 160Km
Tidaholm – Stockholm 335Km
Wegbeschreibung von Tidaholm – Centum zum Camp
Tidaholm Richtung – Hjo Nr.193 ca 7 Km links abbiegen (Perstorpsvägen, bei der roten Eins) von da aus sind Schilder bis zum Camp.
Vägbeskrivning från Tidaholms centrum till Campen
Tidaholm mot Hjo nr. 193 ca 7 km sväng vänster vid Perstorpsvägen direkt höger vid skylt idrottsplats. Skyltat fram till Campen.
Ring gärna för närmare information.
From Tidaholm town to Camp Fjället
Follow route no. 193 from Tidaholm to Hjo. After about 7 km turn left (Perstorpsvägen, red "1").
From there follow the signs to Camp Fjället. Please contact us if you would like to receive more detailed directions.
Kordinater
E 14,04337* N 58,20917*
Zwei Urner Speziallisten für Ferien in Schweden
Reisebüro Hauger AG
Schmiedgasse 2
6460 Altdorf
041 874 54 54
Erwins Reisestube AG
Lehnplats 1
6460 Altdorf
041 872 10 10
041 874 54 54
041 872 10 10
Billig Flüge und Mietauto
SWISS www.swissair.com
Reisebüro: www.ebookers.ch
Mit dem eigene Auto Lörrach / Hamburg verladen (DB Autozug)